Award Winning Shopping Cart
PDshop won the Editor's Choice Award for "Outstanding ASP Shopping Cart Solution" by Web Host Magazine & Buyers Guide.

"PageDown Technology has built a solid, inexpensive shopping cart solution. Completely customizable and easy to setup, PDshopPro version 2.0 is one of the best shopping carts we have reviewed. ASP driven and administered via a nice, well thought out control panel, PDshopPro provides a wealth of features as well.

For its inexpensive, easy to use, and powerful shopping cart solution, PageDown Technology's PDshopPro v2.0 receives an Editor's Choice Award..."

PDshop Reviews & Testimonials
Used by thousands of web developers, web masters, and IT professionals around the world. Here is what a few have told us this week:
Our sales have increased from $10k a month to $50k+
...loving your product. We're very happy with it. Our sales have increased from $10k a month to $50k+ since we moved to this store late last year. We love it. I've got staff managing the upload of new products now because it's so easy to use. It rocks. If you ever want to feature how a nonprofit uses your store as a promo piece, we'd be a great candidate.

-Tracy / Marine Parents
Customizing has been easy!
The site is coming along well and the customizing has been fairly easy so far so we're pretty happy.

-Dave / Wsi Pro Design
We love the software. Thanks!
Just wanted to let you guys know how much we love the software...

We have turned this into a real-time inventory/processing website with the help of your software. Thanks again!

-Kevin / Geeks Etc
Great Features, great customization opportunities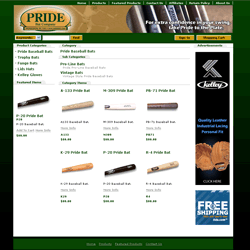 After playing around with the admin part of the site for a few hours, I absolutely love it.

Great features, great customization opportunities, and very easy to use.

-Lucas / BobFM Group
You guys have been the BEST to work with
You went 'above and beyond' your scope of support... You guys have been the BEST to work with. I've had the misfortune of dealing with a lot of different companies (both big and small) whose support can't compare to you...and have always done so very promptly. Good customer service goes a long way with me.

-Larry / Banana Scrubs
Test Drive:
[Try PDshop Now] [Download PDshop] or [See More Sites]
Tell us about your experience with PDshop, click Contact Us