Programming Services
Many companies excel because they have the vision to develop innovative ways of doing business. For these companies, pre-packaged software often fails to address their needs. PageDown technology can create a custom web application to meet the unique requirements of your organization.
ASP.NET (VB.NET, C#) & Classic ASP (VBscript)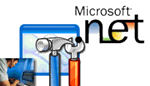 PageDown Technology can develop a web application for your company quickly and easily. Our programmers use the latest web technologies including VB.Net, VBscript, C#, ASP, ASP.NET, HTML, and XML. With our expertise, we can take your existing web site toward the future, with these exciting and powerful languages. We can create a database driven web application for your business (from "Shopping Carts" to complete ECommerce systems).
Internet Information Server (IIS)
We specialize in building web applications that runs Windows servers. We specialize in building custom Vb.Net & Asp.Net scripts, they are specifically written for Microsoft's web server, Internet Information Server (IIS) and the Microsoft .Net platform. In minutes you can install the IIS web server on your server or PC. Installing our custom applications is as easy as copying and pasting our files. No technical knowledge is required.
Contact Us
To contact a PageDown representative with your questions or comments,
click here
.
Telephone / Fax:
646-435-1516
For Technical support,
click here
.